High Liner Foodservice Canada
Dublin Guinness™ Battered Cod Sandwich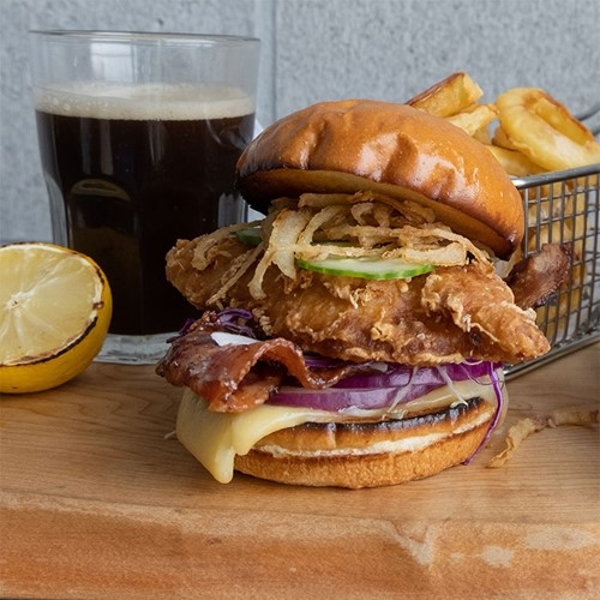 High Liner Foodservice Guinness™ Battered Cod Fillets are as unique as their star ingredient: The world's number one stout! Carefully dipped in batter made with legendary real Guinness™, each fillet goes from oven or fryer to plate in minutes. This creates a distinctively flavored, crunchy and moist flaky fish bite, with the consistency and plate appeal you demand. The result is a dining experience even non-beer lovers will crave.
Serves: 6 sandwiches
Prep time: 20 min
Cook time: 10 mins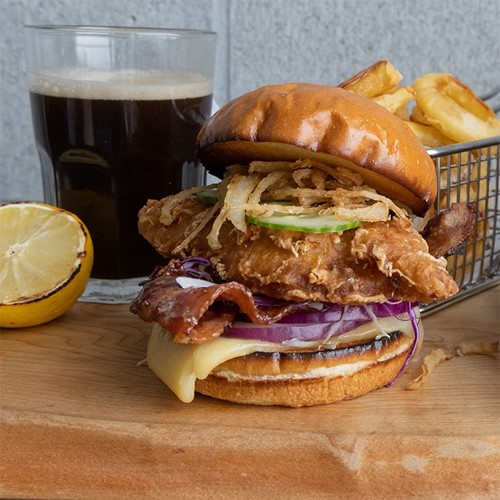 6 each Guinness™ Battered Cod Portions
6 Slices Smoked Gouda Cheese, cut thick
1 ½ cups Pickled Cucumbers
1 ½ cups Crispy Frizzled Onions
¼ cup Maple Syrup
¼ cup Guinness Beer
¼ cup Grain Mustard
1 tbsp. Dijon Mustard
1 tbsp. Malt Vinegar
2 tbsp. Heavy Mayonnaise
1 tsp. Kosher Salt
1 tsp. Black Pepper
Preheat your oven to 300°F and lay the bacon out on a parchment lined sheet pan. Cook for approximately 15 minutes, or until bacon is crispy, and then reserve.minutes, or until bacon is crispy

Add the maple syrup to a small saucepan and cook over medium heat until it comes to a boil. Reduce heat to a simmer and cook for 3-4 minutes. Add beer, simmer until the volume has reduced by half. Remove from heat, whisk in mustard and reserve glaze for service.

For the Malt Vinegar Aioli, in a small bowl, mix all of the ingredients until they combine cohesively and reserve under refrigeration.

Prepare the Guinness Cod according to the package instructions. Cook to an internal temperature of 155℉. (Deep Fry: Preheat fryer to 350℉ and fry for 6-8 minutes. Do not overload fryer. Convection Oven: Preheat oven to 400℉ and bake for 14-16 minutes, flipping portions over halfway through cooking. Conventional Oven: Preheat oven to 425℉ and bake for 18-20 minutes, flipping portions oven hallway through cooking. )

To serve, place bacon in a sauté pan with the glaze and simmer until glaze is thick. Melt cheese over the cooked haddock, top with bacon and place on a lightly toasted brioche bun with malt vinegar aioli, pickled cucumbers and crispy onions. Drizzle with remaining glaze and serve.