High Liner Foodservice Canada
BUFFALO SHRIMP FAJITAS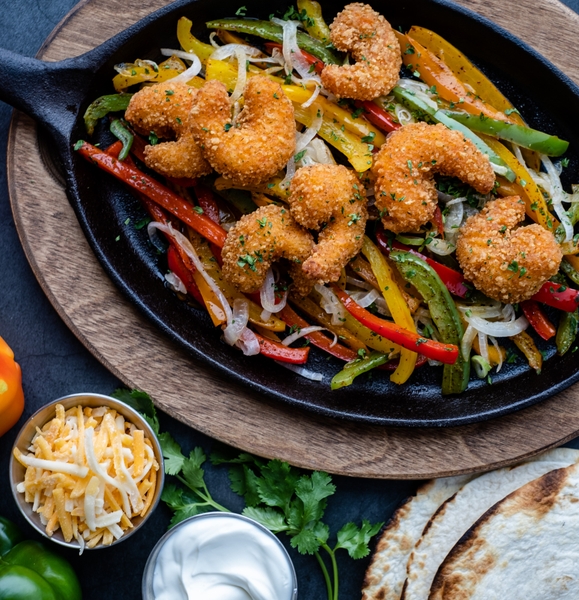 These buffalo seasoned crispy breaded shrimp are a quick cooking and versatile protein option that can do it all. From spicing up a traditional seafood basket or giving your next plate of sizzling fajitas a unique and craveable twist, they're bound to be a food service operators new best friend. From freezer directly to an oven or deep fryer, these shrimp are ultra convenient and come in a trendy recognizable flavor profile as well.
Serves: 2 Entrees
Prep time: 10 Minutes
Cook time: 8-15 Minutes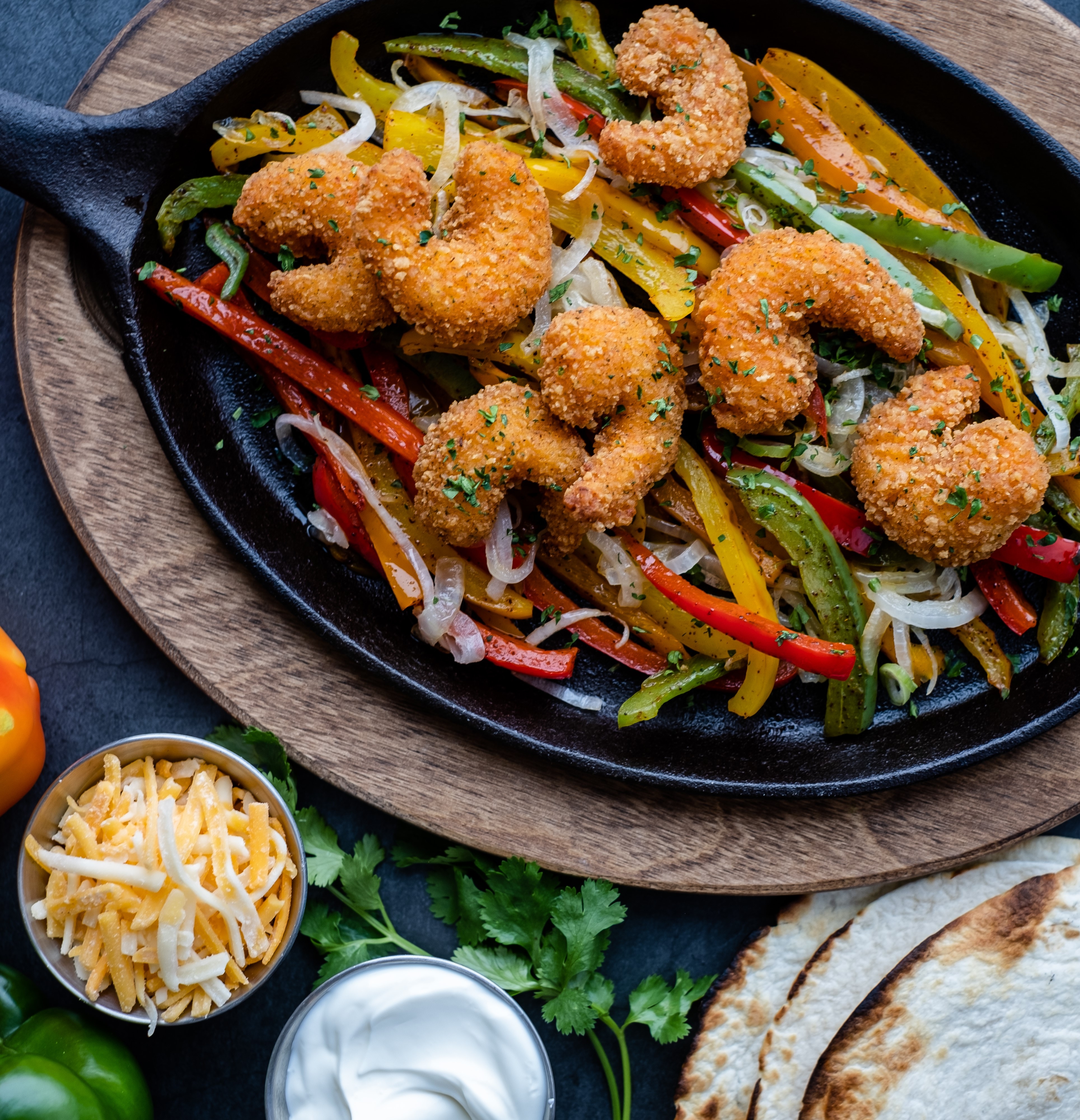 16 each OvenCrunch Breaded Shrimp, Buffalo Style
6 each Flour Tortillas, small 5-6"
½ cup Red Bell Peppers, julienne
½ cup Orange Bell Peppers, julienne
½ cup Green Bell Peppers, julienne
½ cup White Onions, julienne
1 tbsp. Fresh Garlic, minced
2 tbsp. Vegetable Oil
1 tsp. Ground Cumin
1 tsp. Paprika
2 tbsp. Cilantro, chopped
Prepare the Buffalo Shrimp according to the package instructions. Cook to an internal temperature of 145℉. Deep Fry: Preheat the fryer to 350℉ and deep fry for 2.5-3.5 minutes. Do not overload fryer. Convection Oven: Preheat oven to 425℉ and bake for 10-12 minutes, flipping over halfway through. Conventional Oven: Preheat oven to 450℉ and bake for 12-14 minutes, flipping over halfway through. To Air Fry: Set air fryer to 400℉ and cook for approximately 7 minutes.

In a large sauté pan cook all of the julienne bell peppers and onions with the vegetable oil over a medium-high setting for about 3 minutes. Add the minced garlic, cumin and paprika and cook for an additional 30 seconds.

Divide the sautéed vegetables in half and transfer to two preheated sizzle platters. Top each Fajita platter with 8 fully cooked Buffalo Shrimp and garnish with the chopped cilantro.

Serve Buffalo Shrimp Fajitas with warm flour tortillas on the side as well as optional accoutrements like salsa and sour cream.