High Liner Foodservice Canada
GARLIC & HERB SHRIMP ALFREDO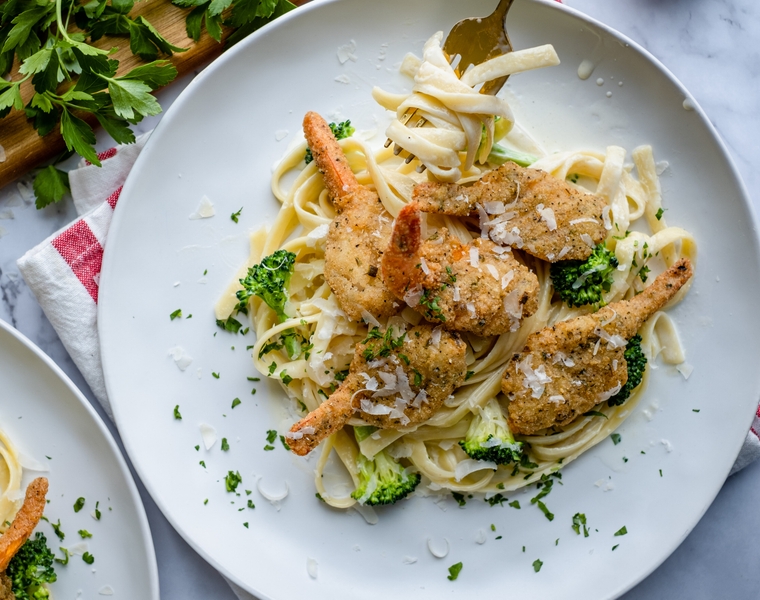 Every menu needs its protein add on options and these Pan Sear Garlic & Herb Shrimp are up to the task. Give your menu classics, like Fettucine Alfredo, a seafood update that's easy to execute. With a craveable, versatile & crispy coating the opportunities to up your shrimp game is endless
Serves: 6
Prep time: 15 minutes
Cook time: 15 minutes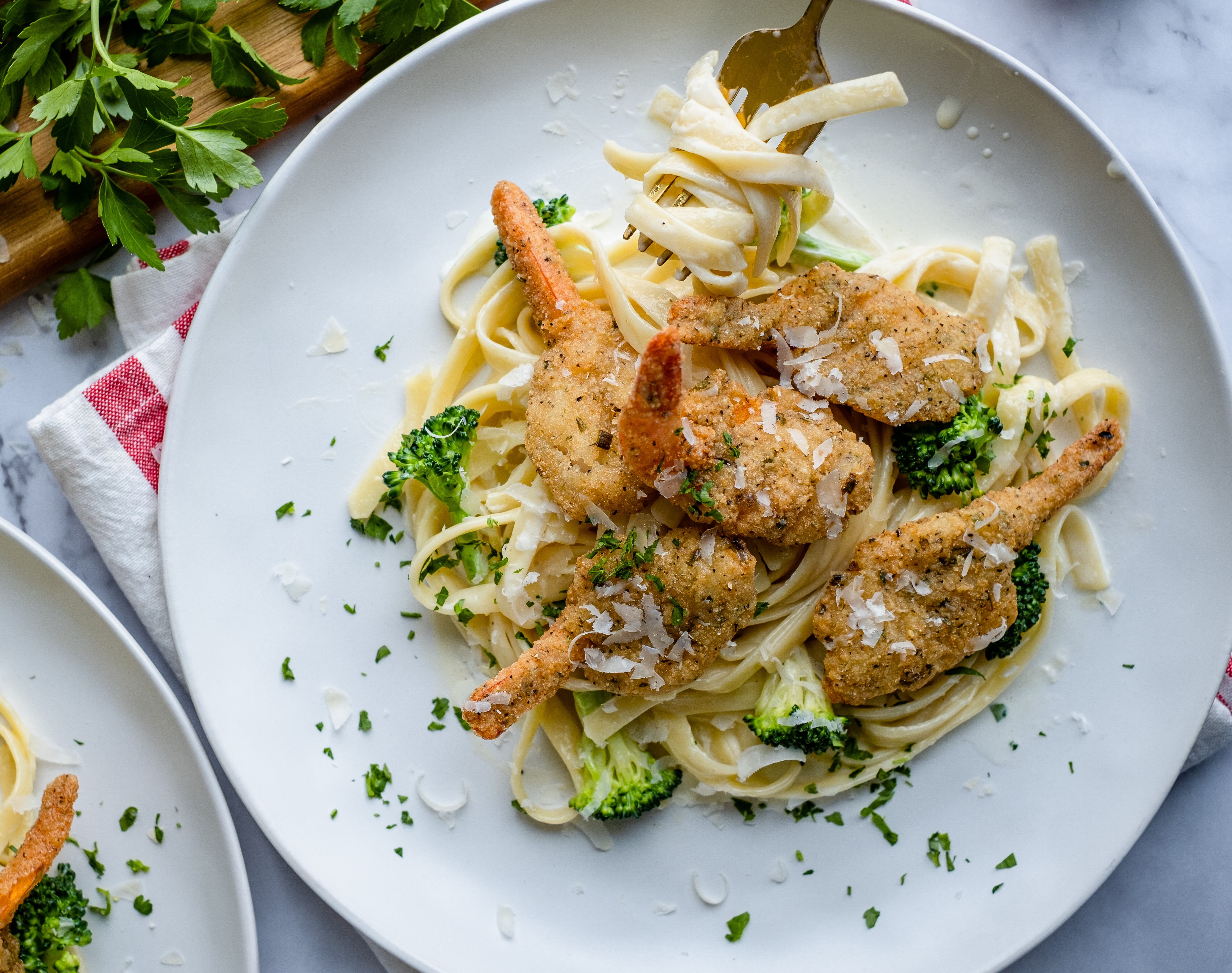 24 Pan sear garlic and herb shrimp – frozen
1# fettuccini, cooked el dente
3 cups prepared alfredo sauce
6 cups broccoli florets, blanched
¼ cup parsley, chopped
¾ cup parmesan, grated
Tips from the chef: These shrimp are perfect to feature as an entrée on a menu and can do double duty with salads and appetizers alike.
Gently warm the prepared alfredo sauce in a large pot or sauté pan. Add the al dente pasta along with the blanched broccoli florets and heat through.

Prepare the Garlic Herb Shrimp according to the package instructions. Cook to an internal temperature of 145°F. (Deep Fry: Preheat fryer to 350°F and fry for 2.5-3.5 minutes. Do not overload fryer. To Bake: Place frozen shrimp on a lightly oiled baking pan. Convection Oven: Preheat oven to 425°F and bake for 10-12 minutes. Flip halfway through cooking. Conventional Oven: Preheat oven to 450 and bake for 12-14 minutes. Flip halfway through cooking. Air Fryer: Set fryer to 400°F and fry for approximately 7 minutes. Pan Sear: Preheat pan over medium heat with oil coating the bottom of the pan. Place frozen shrimp in a single layer and cook for 5-7 minutes, turning over halfway through cooking.)

To Serve: Divide the alfredo pasta equally between six pasta bowls or plates. Garnish each serving with approximately 2 tbsp. of grated parmesan cheese, top with five fully cooked shrimp and use the fresh parsley to garnish each plate.